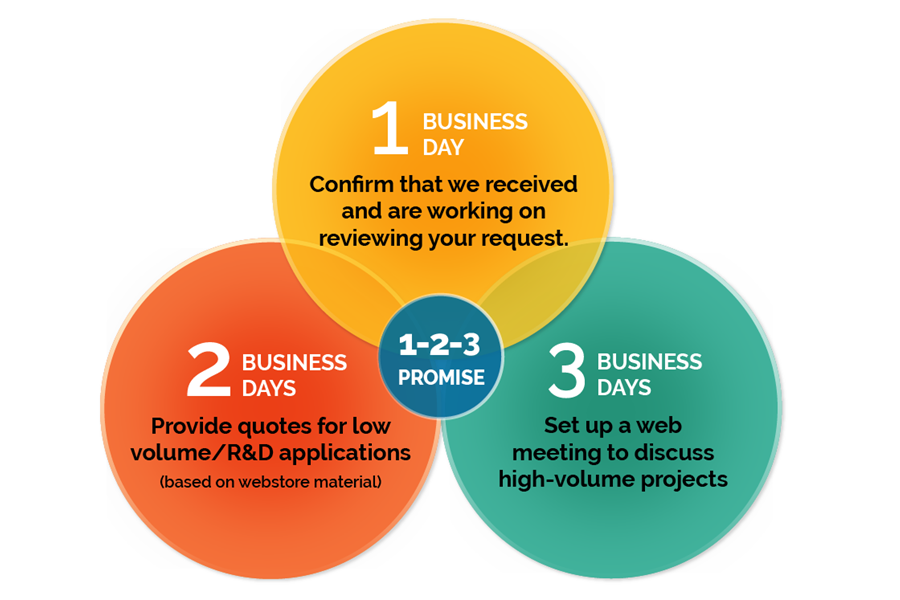 Quick-turn laser-processed customer inquiries and quotes are essential in medical device manufacturing today. Our quick-turn laser processing includes a wide range of high-precision micromachining services, including laser cutting and drilling, laser ablation and coating removal, and wire stripping. Precision laser processing can be used for extruded medical tubing, catheter and drug-delivery products, medical balloons, injection molding, and flexible films.
Spectrum Plastics is proud of our 1-2-3 Promise.
We are committed to our 1-2-3 Promise to provide responses and quotes as short as:
1 business day to confirm we received a request and working to review
2 business day quotes for low volume/R&D applications 
3 business day timeline for a web meeting to discuss high-volume projects
The engineering team at Spectrum Plastics individually reviews each request.
Each opportunity is reviewed individually by our engineering team and variables such as scheduling, production volume, and materials are all considered. Standard materials for our quick-turn laser processing include Pebax®, HDPE, LDPE, PC, PP, PEEK, and Polyimide. Custom or more complex materials are available but may require longer lead times.
After reviewing your request, we will also provide you with an estimated lead time. To further expedite, consider ordering off-the-shelf lasered components from our website or order a custom extrusion run.