Flexible Packaging & Film
Pouches made with DuPont™ Tyvek®
Medical devices or components are placed in a permeable peel pack or pouch made with Tyvek®. The permeability of Tyvek® allows for the complete sterilization of the product while providing an outstanding microbial barrier for the safe handling of the product inside.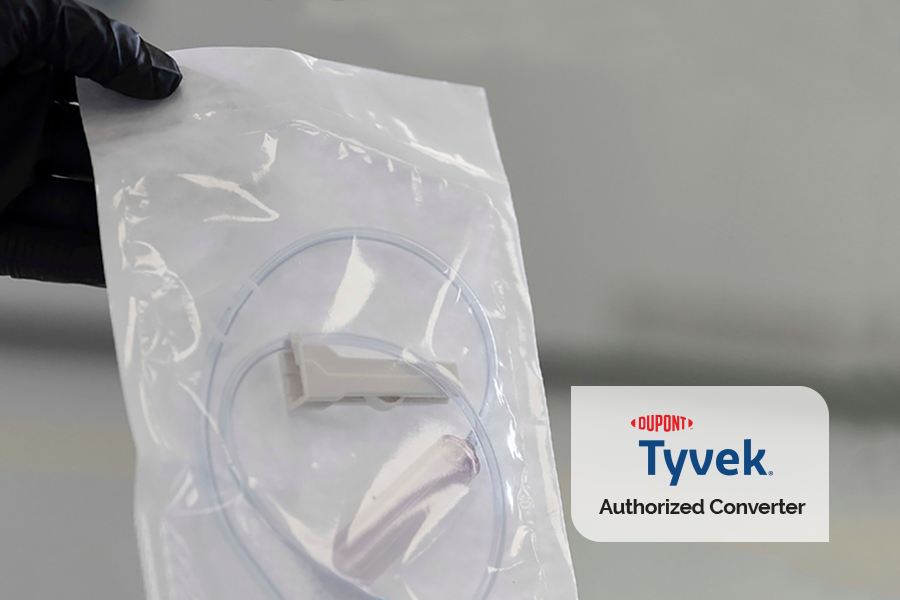 About
Tyvek® packaging provides a high level of confidence and assurance to medical device manufacturers. Spectrum features peel-pouches in a variety of designs and materials including Tyvek®. Tyvek® 1073B, 1059B, and 2FS are popular choices for sealing various polymeric materials, providing required peel characteristics.
For advice from Spectrum's packaging experts regarding best practices for graphic design and printing for medical packaging, including the electronic submittal of final artwork, please consult Guidelines for Medical Packaging Graphic Design.
Materials
Material selection is based on the specific barrier properties the customer requires and the type of sterilization method that will be used. The most popular materials for peel pouches are:
LLDPE
LDPE
PE/PET (Mylar)
Nylon
Tyvek® 1059B
Tyvek® 1073B
Tyvek® 2FS
Medical-Grade Surgical Paper
End Markets
Infusion
Blood Management
Orthopedics
MedSurg
Enteral
Ophthalmic
Exceptional Collaboration
Spectrum will develop the best possible packaging system for your medical device, component, or product that meets all performance and/or end-use specifications.
Contact us to learn how we can help you with your next flexible film and packaging project.