Laser Processing
Ablation
Our custom laser ablation processes selectively remove layers of substrate or coatings from materials or components with micron-level precision. We have the ability to precisely remove virtually any polymer in medical device manufacturing.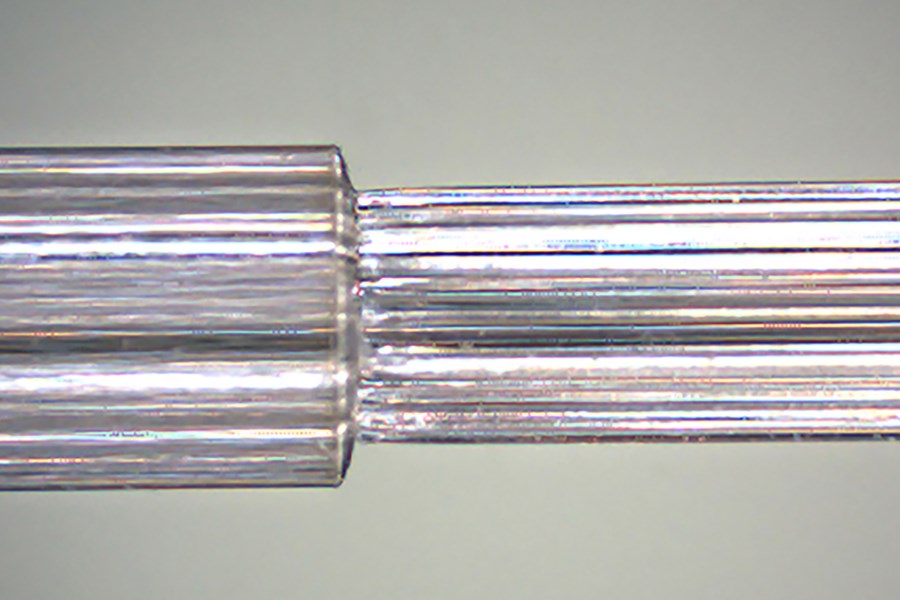 About
Lasers can be programmed to ablate or "vaporize" material from surfaces at the micron level. Ablation selectively remove layers of substrate or coating from the surface of manufactured parts, with little or no negative thermal or structural impacts to the surrounding material. As a result, laser ablation is fast-becoming the technology of choice for medical device and other high-tech production needs.
Patterns and Textures
Laser ablation can also create surface patterns and textures that enhance performance. For example, the surfaces of drug-eluting balloons can be shaped with lasers to create flow channels for drugs or to provide pathways for electrodes. Texturing can improve the performance of the coating on the balloon or the underlying surface.
Sensitive Materials
Lasers are also used to correct variable wall thickness or remove material to improve performance parameters, such as flexibility. Ablation is also ideal for producing parts from materials that require non-traditional processing methods, such as nanomaterials and superconducting materials. It can also be used to determine the chemical levels and concentrations on a surface or place film for processing nanomaterials. 
Clean, High-Precision Removal
Laser ablation offers a level of controlled depth and micron-level precision unmatched by any other manufacturing method. The benefits of laser ablation lie in its accuracy and its versatility. The energy from the intensely focused laser beam is absorbed by the material in the targeted area, which breaks down the chemical bonds and vaporizes the material, with very little or no thermal damage along the edges, reducing or eliminating the need for secondary processing.
Design and Development
Laser ablation is controlled by raising or lowering the laser's pulse length, wavelength, and intensity. Our approach starts with testing your material sample to evaluate removal efficiency and establish parameters for laser micromanufacturing and post-laser processing—this lets us make accurate recommendations for optimal quality, efficiency, and productivity. The testing process determines the ideal combination of wavelength, beam quality, pulse repetition, and rate to achieve your desired results.
Applications
Selective layer removal
Texturing surfaces of medical balloons
Parylene and/or polyimide coating removal for catheters and guidewires
Creating microscopic features in components such as tubing and lumens
Removing polyimide or parylene coating from stainless steel or copper
Creating electrode patterns
Removing dielectric cover material to expose electrodes
Forming transmissive patterns in optically reflective coatings
Removing metal coatings from polymer-based film for electronics
Channel machining for micro-fluidic devices
Laser ablation increasingly is the technology of choice for high-tech component processing needs that traditional machining methods cannot achieve—enabling a wide variety of applications across many different industries.