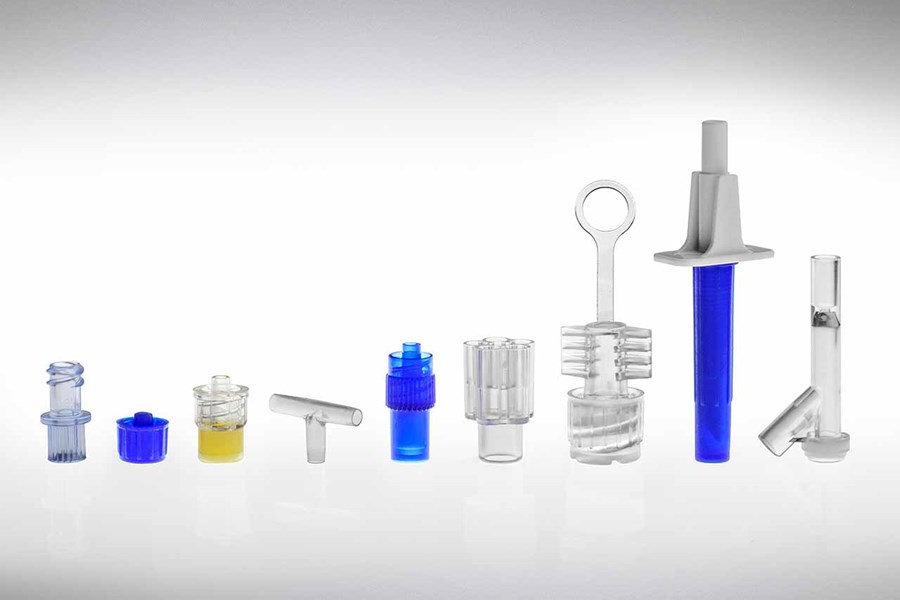 Our Vitalmed product line features single-use plastic components for the medical and pharmaceutical industries, including bags, clamps, luers, caps, chambers, spikes, valves, and assemblies.
Luers
We offer a large selection of luers and luer accessories in the industry.
Male & female luers
Luer adapters
Luer connectors
Luer lock
Bags
We offer single-use one-, two-, and three-port medical bags for preparing, storing, and transporting fluids and biopharmaceutical solutions.
Collection bags
Eva bags
Heating bags
PVC bags
PVC-free bags
TPN bags
Clamps
We have a variety of single-use and multiuse clamps in assorted sizes and colors. Many of our products can be sterilized by autoclave, EtO, and gamma.
Pinch clamps
Slide clamps
Roller clamps
Flow clamps
Re-opening clamps
Non-reopening clamps
Closure clamps
Catheter clamps
Hose clamps
Chambers
We offer vented and nonvented chambers and chamber assemblies for fluid administration in a variety of sizes and colors.
IV drip chambers
Micro drip chambers
UV-blocking chambers
Spikes & Caps
We offer vented and nonvented spikes, specialty spikes, and caps.
Transfer spikes
Spike assemblies
Spike filters
Spike aps
Barbed connectors
Valves
We offer a variety of valves, stopcocks, and swabs.
High-flow check valve
In-line check valve
Luer-activated check valve
Duckbill check valve
Dual-check valve
1-, 2-, 3-, and 4-way fluid direction stopcocks
1-way stopcock
3-way stopcock
Swabs
Assemblies
IV sets
Pump sets
Suction assemblies
Saline sets