Catheter Technologies
Advanced Additive Manufacturing
Spectrum has developed groundbreaking advancing additive manufacturing technologies, utilizing proprietary processes and medical-grade materials to create components with complex tolerances, geometries, and features.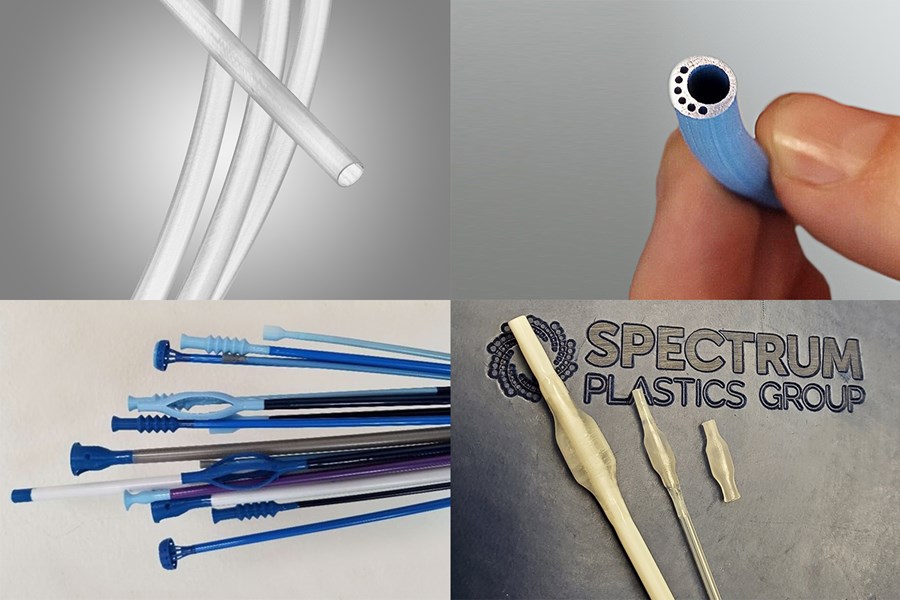 About
Additive manufacturing (AM), also known as 3D printing, is an innovative suite of advanced technologies that enables the fabrication of medical components and products with remarkably complex and high-resolution features which often cannot be achieved within the constraints of conventional manufacturing methods. Compared to traditional subtractive machining methods, AM is more efficient and can deliver functional prototypes into the hands of medical engineering teams within a matter of days, instead of weeks. Spectrum has developed groundbreaking, proprietary AM technologies for creating medical products that the competition cannot, such as high-precision, medical-grade single and multi-lumen tubing—a first in the industry.
Industry-Leading, Medical-Grade Additive Manufacturing
Additive manufacturing is a rapidly advancing field as new technologies, equipment, and specialized materials continue to enter the market. Spectrum's industry-leading AM capabilities enable more creative design, innovative rapid prototyping, and seamless transition to high-volume manufacturing.
Benefits of Spectrum's additive manufacturing capabilities and services include:
Customized and/or proprietary processes, equipment, and materials for a wide range of medical applications
Creating innovative, one-of-a-kind medical device components that advance the manufacturing boundaries of what is possible, especially for minimally invasive surgical processes and life-saving devices such as stents
Spectrum's dedicated additive manufacturing technical team has the depth of knowledge and experience to determine the best AM approach for your project, meeting even the most challenging timelines
Rapid prototyping that can deliver production-ready prototypes in a matter of days instead of weeks, accelerating project development and informed decision-making
Bridge manufacturing that utilizes additive manufacturing/3D printing to test low-volume production runs of a product before investing heavily in a mass-production process using standard methods of manufacturing 
Spectrum Additive Manufacturing Technologies
Spectrum's advanced additive manufacturing technologies create components for medical devices, including:
Catheter Technologies
Catheter tips, hubs and luers with complex features and geometries
Dilators, and sheaths, with complex features
Customized profile devices with individualized fit
"Extrusion profiles" for multi-lumen, single-lumen, and infinite length
Medical Molding
Mold inserts for quick-turn prototyping
Micro components
Multi-material components
Handles/large components and devices
Tubing
Spectrum has developed proprietary additive manufacturing technologies for manufacturing high-precision, medical-grade tubing (single and multilumen tubing) that is not extrusion-based.
3d Printing Filament
Spectrum also formulates and manufactures its own 3D printing filaments for various materials and sizes in-house, assuring the highest quality, control, and availability.
Next-Generation Materials and Tolerances
Spectrum uses additive manufacturing technologies to process all medical-grade thermoplastic materials. These include Nylon, Pebax®, polypropylene, polycarbonate, acrylonitrile butadiene styrene (ABS), polylactic acid (PLA), PEEK, polyetherketone (PEK), high impact polystyrene (HIPS), Urethanes, and custom materials.
Product design and performance parameters include:
Medical-grade materials that are biocompatible traceable, certified
Low-durometer to high-durometer materials (60A 85D)
Low-temperature to high-temperature materials (PLA-PEEK)
Up to four different materials in one multi-material printing
Lumen sizes as small as .010"
Tubing walls as thin as 0.006" with current development underway to achieve 0.003"
Print volume—micro prints, large prints, infinite length prints
Quick-Turn Prototyping
Quick-turn prototyping is essential in medical device manufacturing today. Time to market is a top priority for medical device manufacturers—delivering functional prototypes into the hands of all stakeholders as soon as possible allows for more-informed decision-making and shorter time to market.
Lead times can be as short as:
3-5 days for most additive manufacturing prototypes
1-2 weeks for higher-volume orders or complex designs
Partner with Spectrum's Additive Manufacturing Technical Team
Bringing a medical device to market can take years and requires deep expertise in identifying product requirements and the best product design to meet clinical needs. Spectrum's additive manufacturing capabilities allow medical-device designers to select from a wide range of medical-grade plastics with specifically engineered material characteristics and design components, including, multi-material and multi-dimensional builds.
For more information on AM, or to discuss if AM is a good choice for your next project, please contact us to speak directly with our technical experts.